Good Will Hunting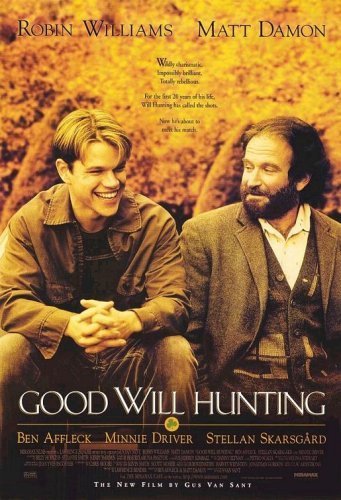 Matt Damon, Robin Williams, Ben Affleck, Stellan Skarsgard, Nobody else matters
Will Hunting(Matt Damon) is a young math genius who has a tendency to get into trouble. When he is prosecuted for assaulting a police officer he is bailed out on a deal with the court by Professor Gerald Lambeau(Stellan Skarsgard). After scaring off numerous therapists Hunting meets Sean Maguire(Robin Williams), a friend of Professor Lambeau. Maguire befriends Will and begins to unveil some underlying problems that he has developed. After receiving numerous job offers and finishing his counseling with Sean, Will decides to leave the state to follow a girl.
Aw man this movie was awesome, it got the feels going, not the emotional waterworks feels, I'm talking the feels like when you exit an action movie and you just want to be a secret agent from that point on. This movie really got me thinking about what I wanted to do. Maybe I should pursue a career in teaching or maybe I want to be a therapist or something I don't know. Anyway, this movie was great, you're watching how this kid opens up to someone for the first time and how it changes his priorities. It's a beautifully touching movie and I would highly recommend it.
Silver Lining's Playbook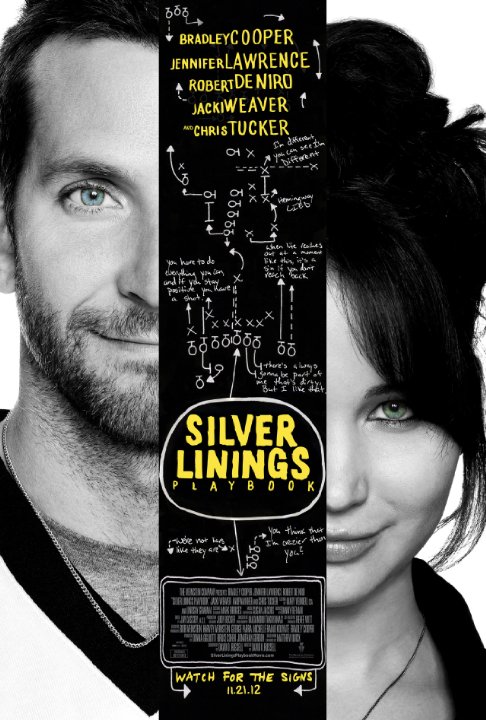 Bradley Cooper, Jennifer Lawrence, Robert de Niro, Nobody else matters
Pat Salotano Jr.(Bradley Cooper) is in a mental hospital for being an undiagnosed bipolar. Nearing the end of his marriage Pat begins to experience mental breakdowns(kinda) and it ruins his life. When he is checked out of the mental hospital and returns to his normal life, things have changed. When at a friends dinner party he meets Tiffany(Jennifer Lawrence), who happens to be in a similar situation as Pat they become what could be classified as friends. After doing each other a couple of favors, they realize they have been closer than ever and in the end they date and stuff. Mrs. Q it's really late why do we have to write the synopsis on our own?
This movie didn't really give me the same level of feels as other movies because I didn't really feel like sending myself to a mental hospital but you still feel what is happening. So, you're watching how people treat Pat after he gets out and how his life has been affected by one meltdown. The viewer learns Pat's philosophy on life and sees what he is doing to try to win back his wife's affection. While he is trying to get his wife back, the viewer learns what Tiffany feels towards Pat and we witness the transformation in Pat's feelings towards Tiffany. Anyway, my favorite part is when "Unforgettable" by Nat King Cole starts playing while the camera zooms in on the house decorated for Christmas, in the next shot we see Pat and Tiffany's families toasting, and it's just great there is so much joy in that shot.